The Paddler On Shore: Camping, Cooking, Exploring Afoot, and More
Are you new to camping, and are unsure how to go about it? Maybe you need help figuring out how to read a map, or how to store your boat in winter. Or maybe you're hoping to learn more about cooking in camp, or need a recipe for energy bars, or are uncertain how to purify "wild water." Then you've come to the right place. Our articles linked below touch on these and many others related to those subjects of interest to the paddler on shore. You're in a hurry? Then here's a table of contents to take you straight to the subject you want:
Stop back often. We'll be adding more every week. Want to know when we add something new? Then subscribe to our RSS feed. Think of it as a newsletter, if you like — minus the in‑box clutter, the ads, and the data mining. And if there's something you're looking for but can't find, you can always reach us through our Contact page. Don't be a stranger!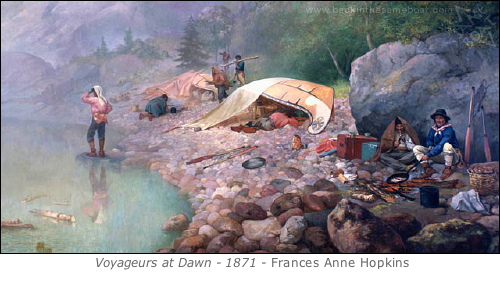 ---
Camp, Sweet Camp: Smoothing It in the Backcountry
---
Secrets of a Happy Camper
Camp Comfort
Making Ready for the Night
Shelters for Paddlers: Tents, Tarps, and Hybrids
And Now I Lay Me Down to Sleep …
To Build a Fire …
Backcountry Sanitation, Fundamental Issues, and Practical Ecology
Girl Talk!
---
Staying Healthy and Keeping Safe in the Backcountry
---
First Aid, Survival Kits, Disease Prevention, and Dental Care
Flora and Fauna With a Bite: From Poison Plants to Noshing Insects
Survival and Backcountry Best Practices
Can I Drink the Water?
---
Swimming, Hiking, Angling, and Other Active Endeavors
---
Activities at and in the Water
The Amphibious Trekker: Combining Paddling, Cycling, Hiking, and Hillwalking
---
On the Home Front …
---
Storing and Securing Boats and Gear
---
Knots and Ropework for Paddlers
---
Knots to Know
---
In the Workshop: For Thrifty and Do-it-Yourself Paddlers
---
Build, Repair, and Maintain Boats, Paddles, and Other Hardware
Sewing, Repairing, and Maintaining Soft Goods
Recycling and Upcycling
---
The Things We Carry: Our Personal Gear
---
Carry-Along Kit
Edged Tools: Knives, Multitools, Saws, and Big Blades
A Few of Our Favorite Things
---
What Am I to Wear?
---
Head and Shoulders Above the Rest
Insights on Eyewear
On Your Feet!
The Well-Dressed Paddler on the Water
---
Off Season: Making It Through Winter
---
Things to Do Indoors in Winter
Afoot Outside in Winter
---

A note on the photo: This photo is of of a youngish Thomas Hiram Holding on a canoeing holiday in the mid-19th century, and is reproduced through the courtesy of The (UK) Camping and Caravanning Club.